Coliphages
New microbial parameter for water quality assessment
An excellent opportunity to learn more about coliphage enumeration and the evolving regulatory landscape in water microbiology.
Hello, we are BLUEPHAGE!
A spin-off of the University of Barcelona born in 2016
Our mission is to increase and improve water's microbiological control through viral indicators by providing easy-to-use, fast, simple, reliable, and economical kits to analyze coliphages, thus assuring safe water for a better world.
Safe water for a better world
Safe water for a better world
A NEW APPROACH FOR WATER TESTING



Why Coliphages
In general, bacteriophages are viruses that infect bacteria and are extremely abundant in nature, probably the most abundant life form on Earth. In particular, bacteriophages outnumber bacteria in most habitats studied including microbial communities associated with humans and animals.
In a facility with filters, membranes or other technology, monitoring of bacteriophages provides greater safety than that of bacteria, due to their size (smaller than bacteria) and greater abundance.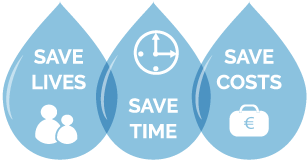 The quickest, most accurate and easy-to-use viral indicator tests available for microbial water quality assessment

quick results
< 6'5 hours

equivalence
To ISO and US-EPA standard methods

easy-to-use
Basic laboratory equipment

high sensitivity
Low limit of 1pfu/100 mL

easy storage
Biological material at -20ºC
Rest of components at Room Temperature

effective test results
Presence/Absence
Quantitative
Part of this project has been financed by the general budgets of the spanish state in charge of the application 27.12.467C.74908